NOC SERVICES – Network Operations Center
Customers, services and connections are global, so services must be global as well, and continuous availability is a fundamental need for this.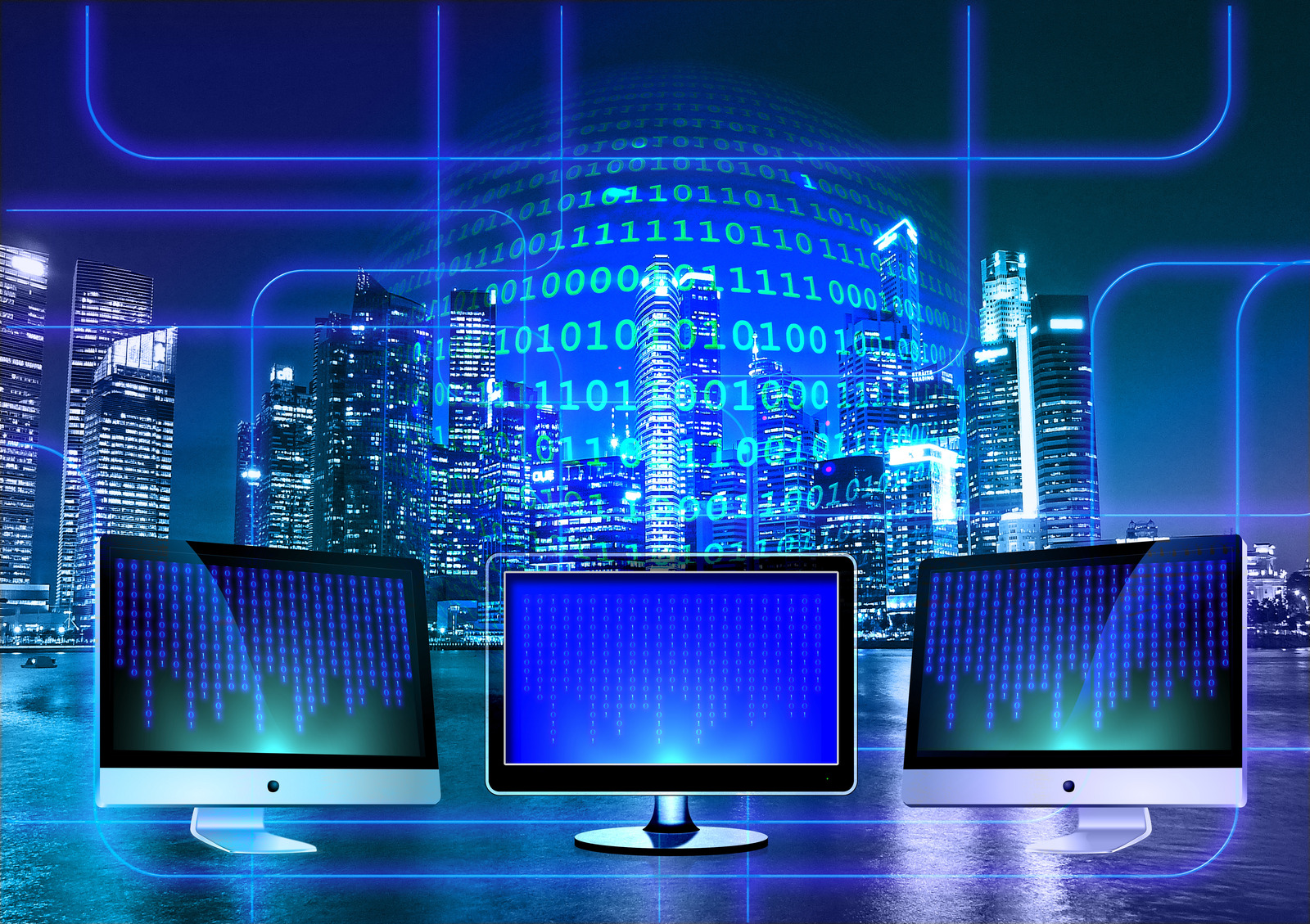 Scope
Monitor ITC systems including both the infrastructure and the services that run on it, in order to detect abnormal behavior.
We can obtain a clear vision in real time by attending to bandwidth, latency, throughput, use of hardware resources, hardware availability and also, determine the point in the infrastructure where bottlenecks in services occur.
React before events that lead to trouble happen. 
For example, with the 24×7 automatic monitoring system with alert and event management, it is possible to continuously monitor systems and services health.
Develop together with the client and within its objectives, a prioritization solution and mobilization of resources in the event of incidents.
Above all, prioritization and knowing which is applied to different network events, allows to focus resources and efforts on solving network incidents that occur.
Integration between monitored elements and equipment in CMDB in order to quickly and efficiently manage an RMA.
In the moments in which it is essential to replace a key element, it is necessary to have all the information on its support contract, location, typology, replace options and, above all, make the service available again as soon as possible, in order to minimize outage or degradations times.
Have a proactive maintenance system based on the installed base.
Given the crucial nature of availability, it is necessary, as far as technical and service possibilities are concerned, to get as close as possible to 99.999%. In other words, the "simple" variation of targeting 99.999% over 99.9% availability, means the difference between a loss per year of 5.26 minutes or 8.76 hours. In other words, it gives us a good idea of the importance of reacting quickly to the need to return the network to its previous and functional state.
Execution of backup processes for a quick service recovery.
The backup restoration service is definitely one of the fastest and most reliable that exists, since it allows us to return to a known functional situation. However, it will also be necessary that the network is correctly dimensioned and available to make use of the necessary bandwidth to transfer the backup files.
Creation of scorecards and indicators (KPIs) that help us to better understand the work done and to be more efficient.
Along with monitoring actions, it is necessary in all services and processes to assess its quality. Therefore, it is essential to define correct KPIs that indicate from where we started, where we are, what is the objective to be achieved and how we got there. Similarly, these KPIs need to be dynamic in a way that reflects changing needs and strategies.
Accelerates growth and improves profit.
Smart monitoring and management services.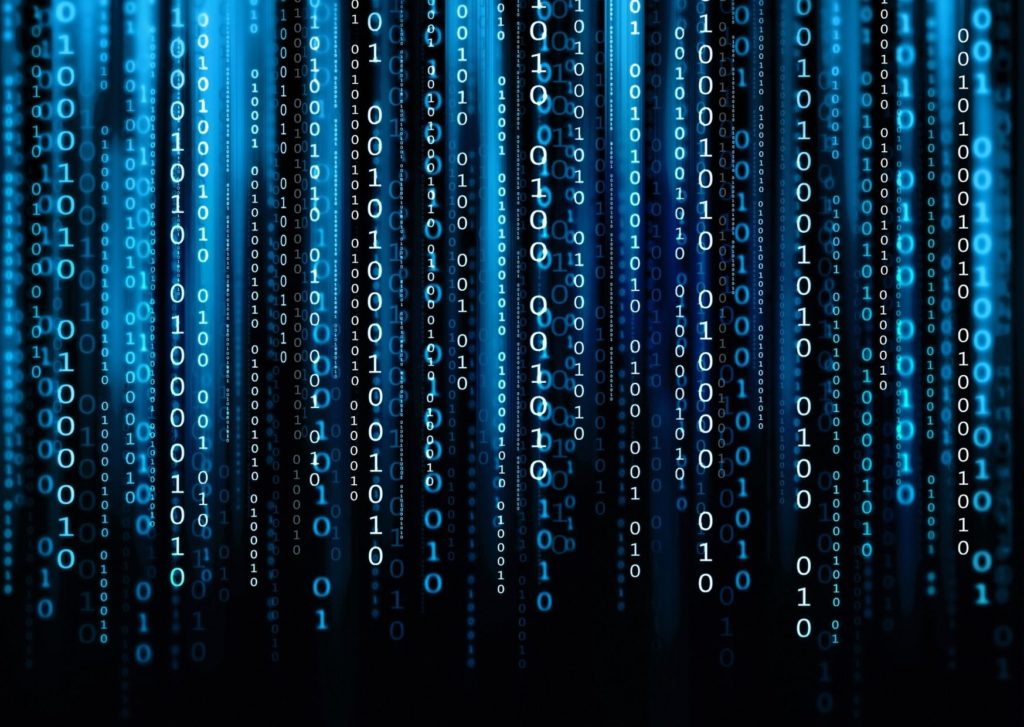 An intelligent monitoring and management service are essential as a central point of information gathering and proactive action on network services.
Given its nature as a central information point, it is possible to measure the available resources and their growth options. In addition, it determines the points prone to failure or events in the network of a strange nature.
Therefore, it is necessary that this central point make accurate measurements on the stability, availability and quality of the service, based on well-defined methodologies and recognized operation and support standards.
Taking into account that ITC systems should have anear to 100% availability, it is crucial in management to have tools that proactively determine possible service failures, as well as having an image before, during and at the end of an event, in order to feed the improvement cycle.
With this model we will have the necessary technology to establish a knowledge baseline. In addition, we will advance towards Deep knowledge.
Monitoring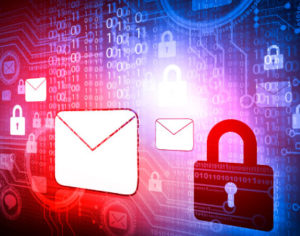 Through continuous and correct adjustment of the monitoring system, technical groups can put their knowledge, experience and time on those critical and complex activities for the service. In the same way, they will be able to carry out an accurate assessment of the scope of the incident and its impact on clients and services in an agile and precise way.
As a result, an intelligent management that is capable to identify the key points and put its knowledge and expertise in the resolution of incidents, allows a decrease in operational costs, improves brand image and enables a correct management of network events.
In addition, it allows a planned and known way for the services growth that depend on the infrastructure since, capacity indicators are available and allow a better and earlier needs development. Taking everything into account, it is necessary to have a central administration point that follows the most standardized and agile administration methodologies possible.
Therefore, NOC services are very important.
Monitoring: Detection + Analysis + Solution + Review
Service monitoring advantages:
First of all, enable create work roadmap to avoid potential problems.
Prevents service degradation before it happens.
Enables proactive systems and applycations performance and health management.
The number of incidents is reduced by anticipating their occurrence.
Finally, there is immediate operational savings.
For example, a connectivity loss in the network that occursduring 3 hours 3 times a year and that affects 50% of service, could cause a possible cost valued in (3 * 3) * 50/100 * (cost per hour).
In the same way, it anticipates possible network events that damage the brand and its reputation. Always essential in the services offered to clients since it can also have a direct impact due to sales losses.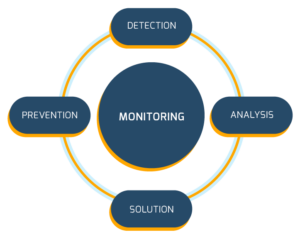 Management services: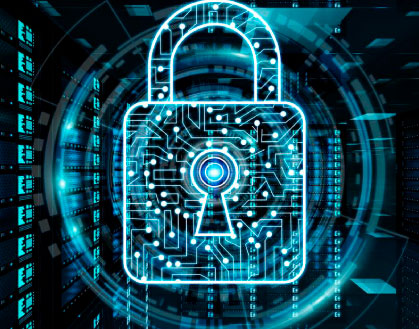 Given the power of the tools available and all the information sources available, it is easy to obtain a high amount of information about the status of a device, connection or service. However, this wave of information must be treated in a way that allows a correct classification, analysis and interpretation of the information it contains.
Only with correct prior information profiling it is possible to act correctly, without erroneous interpretations that derive in wrong decision making, or that generate inappropriate actions that decrease productivity, affect negatively the image and relationship of commitment with partners and clients with the associated degradation of IoC (Indicators of Commitment).
In other words, it is essential to have a broad communications and services knowledge to carry out a correctly directed action taking advantage from the monitoring tools information.
Advantages of smart management in NOC Services:
First, it establishes measurable, achievable, tangible and known quality service requirements.
Second, follow up.
It deals with compliance with the service's own standards through dashboards.
Executes the actions according to defined, structured work models.
It also optimizes the technical and human resources available.
Determine the restoration of services according to the established SLAs.
Generates a service strategy that allows you to react to the needs that arise.
Finally, it allows a constant improvement of the service.
Define a strategy in 4 steps: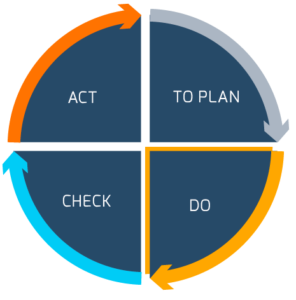 Approach to NOC Services according to Coreun quality standards
First, every process involves a continuous search for improvement and adaptation time. Furthermore, at Coreun we understand NOC services as a scalable system.
And secondly, this system allows us to grow together with the the defined service objectives and needs, with Tier 4 being the maximum exponent of advanced monitoring and management services.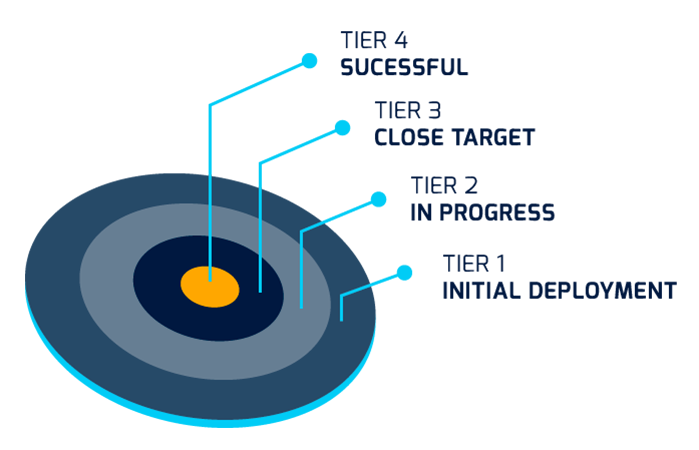 What can NOC Services contribute at their highest work level?
Firstly, highly trained personnel.
Secondly, optimized Monitoring Systems.
Analysis of network information.
Reinstallation of service through the management of configuration files and infrastructure software.
Monthly volumetric reports, monitoring the services health and SLA and KPI compliance.
Reports on the service sizing and growth possibilities.
Also reports on the use of resources and optimization.
Improvement plan.
Upgrades and maintenance plan according to technical recommendations.
Centralized CMDB.
Coordination before changes and incidents.
Follow-up meetings and CAB in order to know those critical processes for the client and its operation and objectives.
Different hours of support and operation.
Lastly, contact, request and incident generationand monitoring, through multiple means of communication.